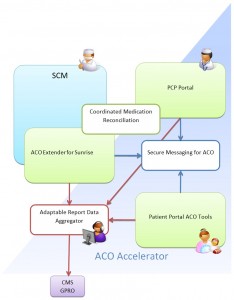 The ACO Accelerator is an integrated suite of systems and components
that complements and extends functionality of an SCM-centered EHR,
getting you ready for operating an ACO in 2012.
Ready-to-use Sunrise integration that lowers implementation cost and complexity by as much as an order of magnitude when compared with any piece-meal approach.
Modular design for flexible alignment with already
deployed functionality.
Adaptable Report Data Aggregator to keep-up with "moving target" of
reporting metrics.
The ACO Accelerator software package consists of 6 major modules: