Specialized data capturing needs of: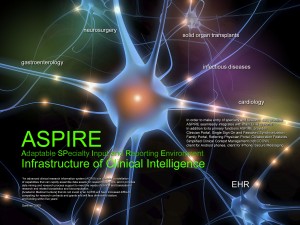 Specialty Departments and Clinics
Clinical Workflows
EHR Integrated
Quality Improvement
Reporting
Clinical Research
Analytical/Graphical/OLAP Reporting
Meet reporting requirements for CMS/ACO, STS, NACHRI, CDC, DHFS, US News and World Report Survey and others.
Single Sign-On with Context Management
Move from your EHR to ASPIRE without logging out or searching for the Patient you were just on. 
Nomenclature Manager
Map and manage your custom or standard codes such as: Snomed, CPT, ICD-9, ICD-10, STS, IPCCC, EPCC, etc.
The following modules are in production today:
Cardiology

Epilepsy

Gastroenterology

Infectious Diseases
Neurosurgery

Solid Organ Transplant – Heart, Kidney and Liver

And Others…